Home >> Products >> Pagoda Tent
steel and aluminum
aluminum
model number
roof type
size
eave height
roof height
pillar beam
model number
roof type
size
eave height
roof height
pillar beam
POSA0300/
230/370
high peak
3mx3m
2.3m
3.7m
60x40x2mm
POAL0300/
230/370
high peak
3mx3m
2.3m
3.7m
84x48x3mm
POSA0400/
230/420
high peak
4mx4m
2.3m
4.2m
60x40x2mm
POAL0400/
230/420
high peak
4mx4m
2.3m
4.2m
84x48x3mm
POSA0450/
230/445
high peak
4.5mx4.5m
2.3m
4.45m
60x40x2mm
POAL0450/
230/445
high peak
4.5mx4.5m
2.3m
4.45m
84x48x3mm
POSA0500/
230/470
high peak
5mx5m
2.3m
4.7m
60x40x2mm
POAL0500/
230/470
high peak
5mx5m
2.3m
4.7m
84x48x3mm
POSA0600/
230/520
high peak
6mx6m
2.3m
5.2m
60x40x2mm
POAL0600/
230/520
high peak
6mx6m
2.3m
5.2m
84x48x3mm
Features
-The Pagoda SERIES is available in 3mx3m, 4mx4m, 4.5mx4.5m, 5mx5m, 6mx6m
-The pagoda tent has a tensioned pyramid roof supported on a frame, and is a clear span structure with no centre poles. Based on a square floor plan, the Pagoda has vertical frame supports in each corner which then extend to a central point to form the pyramid roof. A heavy-duty winch on the underside of the roof frame raises the roof canopy and gives it its elegant shape.
-The Pagoda tent provides a distinctive and elegant cover for events and is also used as the entrance to a Modular structure tent.
-Ideal for: events, weddings, party tents, entrances, walkways, show stands, exhibitions, reception room, garden parties, porches, stabling etc, Spring Top Tent, conical roof tent.
Base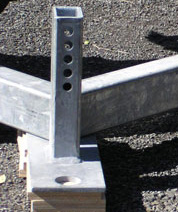 The joints and pedestal feet are made from heavy-duty galvanized steel which bolt to the frame.
Side wall
PVC material is used as side wall and the panels can be supplied with or without windows. The side panels include a central zip entry so access can be created at any position around the structure and they can be tied back to the leg poles if desired.
two-ply membrane panel, double door units, Entrance ramp are available